I was in the mood for something spicy, and you know I'm a stir fry guy. So here a stirfry I whipped together. Once again, only ingredients I found in the fridge when I got home at night.
Total cook time: >20 minutes
You'll need:
-2 boneless skinless chicken breast
-2 stalks celery (sliced)
-1/2 carrot (sliced)
-1/8 red onion (sliced)
-10 baby bell pepper (cut in half)
-10 leaves of fresh Basil
-1 tbls Coconut oil
-Crushed red chili flakes
-1 Tbls sea salt
How to cook it: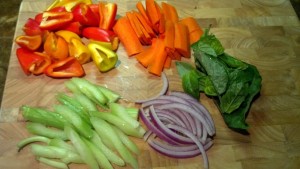 -First cut up all your veggies. I went with the "sliced" theme this night. So I sliced everything up, and put it on a plate. The more you do this, the better you get at it and the faster. I can now cut up all my veggies for just about any dish in under 5 minutes.
-Next cut up your chicken. I went with 1/4″ x 1″ pieces tonight.
-Heat the pan/wok and throw in the coconut oil
-throw in the onions, carrots, and chicken
-When the chicken starts to brown, throw in the peppers
-Stir for 5 minutes, then add the Basil leaves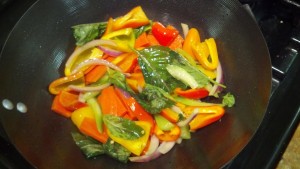 -When the basil starts to wilt, add the salt, and as much red chili flakes as you can handle.
Eat it like you mean it 🙂 My lips were on fire, but it was delicious