My Shred Program is a 21 day Lifestyle Nutrition program. 
Watch this video…
I created this program with one goal in mind. To teach people how to eat, in order to get lean in a healthy and sustainable way.
I grew up as an overweight kid most of my life. When I was 20 years old I hit my highest weight of 270 pounds. I was wearing 2XL t-shirts, size 38″ waist jeans.
At this weight, I had to hold my breath to tie my shoes because my stomach got in the way. And little things like going up stairs took my breath away. 
When I realized that I could actually change by changing what I was doing, my journey began.
And that is the beauty of transformation. It's available to all of us, if we are willing.
This program is an accumulation of what I've learned from my journey of losing 100 pounds. In combination with what I've learned from real life experience through helping hundreds of clients reach their goals over the past 10 years as a coach.
What I teach is a way of eating. It's a lifestyle. And over the years I have learned to cultivate my lifestyle, my relationship with food, and how it affects my body and my entire life.
You can begin that same change and reset your momentum in 21 days. If you are willing.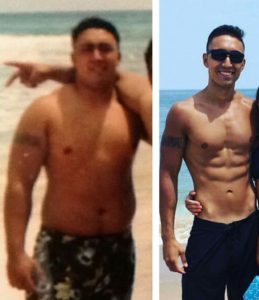 Here are some of the key principles that I teach in the program:
Eating whole food. The way it was grown, and raised. Not processed or altered. 
Eliminating most processed foods. (we include some dairy as options)
Consuming all your nutrients (Proteins/Carbs/Fats) making sure your body gets what it needs. Yes I eat carbs and love them. 
Understanding and finding what your body needs, rather than what it wants.
Learning how to adjust intake, based on your situation and circumstances.
Learning how to prepare meals, grocery shopping, and food prep. 
Learning how to navigate food choices and options. 
Becoming aware of what you are eating, and how it can affect your body. 
When beginning the program, you will receive:
A List of Foods
Serving sizes for each food group
A daily number number of servings to eat from each food group. (There is flexibility around meal timing and food combinations)
Daily messages and videos from me to walk you through this process in detail.

Some of these messages include but are not limited to:
-The importance of understanding true hunger.

-How to order at restaurants

-How to eat when you have limited options

-How to grocery shop

-How to cook and food prep in order to maximize your results, and more.
Who this program is NOT ideal for:
For people wanting a quick fix. I believe the mindset one has going into a program, will dictate the success of the program. Looking for quick fixes with nutrition and weight loss is very common. And what may give someone a temporary quick fix, usually ends in long term frustration.
For people wanting to see changes, but not willing to change. It's simple, we all have things we enjoy or are attached to that hold us back. If a person is not willing to surrender what they are currently doing, to take on new changes, the changes they wish to create will likely never come. 
For vegan or vegetarian lifestyles.  My personal experience and my experience with clients has involved animal protein as a key element of the nutrition program. Although I do believe it is possible to transform your body without consuming animal protein, I have limited experience with doing so, or coaching others to do so.  
Get Started: