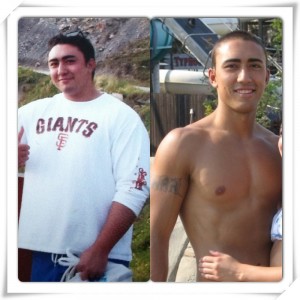 As someone who coaches a lot of people on improving their body composition, there are certain thought processes I encounter on a daily basis. The first of which, on the subject of Good vs Adequate.
The idea of good, hard, healthy, and strong are just that, ideas. They are all completely subjective. There is no definition for a "good diet". When I used to bring a tupperware full of broccoli with my lunch to work, my co workers told me I was "too healthy". However now I live in the town of Mill Valley, and the fact that I grocery shop at Safeway instead of Whole Foods, some consider me "unhealthy". It's subjective, and sometimes hilarious.
If I ask 10 people who want to get in shape, about their diet, 8 out of 10 will respond with the phrase, "I already eat good." Or, "I eat really healthy." When I first started coaching people I was pretty blunt, and not so smooth with my words. So my response to this would usually be, "Well, it's obviously not because you're overweight and not losing any." I was quite charming.
Now that I've refined my communication a bit, I don't have to be as harsh on my clients. The first thing I do is find out what their goal is. This is the most important step because everything else is based off of their desired outcome, or goal.  If your goal is to improve your body composition, meaning to minimize fat and sustain or build lean muscle, the recipe calls for two main ingredients:
1. Adequate Training
2. Adequate Nutrition
Notice I did not say "hard" training and "healthy" nutrition.
The definition of Adequate: As much, or as good as necessary for some requirement or purpose.
Your nutrition, just like your training, should be based on your goals. And the evaluation of how "good" or "healthy" something is should be based on results, not the process. You say you eat good and train hard, yet your not getting the results you want.
In other words, your training and/or your nutrition are inadequate to reach your goals. Regardless, they need to improve in order for your results to improve. When it comes to fat loss, the greatest factor is nutrition, hands down. The reality is, training without adequate nutrition will only yield limited results.
So if your goal is to lose fat, assume your nutrition can improve. If you say you don't want to lose fat, but just flatten your stomach or "tone" your flabby triceps, you're probably misinformed and the answer is you want to lose fat.  And whats the most effective way to lose fat? Yeah, nutrition. Not motivational spin classes, barbell classes who take pride in making you puke, triathalon training, or any other training program designed by myself. It's good ole unsexy nutrition.
So what do you do now? These are four steps I use to create the results I want, and the results my clients want. These apply to nutrition, training, and just about anything. Here they are:
1. Plan. Set up a gameplan. Set up a plan to follow, and follow it for a set amount of time. For nutrition, I like the two week mark. Set a two week diet, writing down what you will be doing, and all the details, servings, meals per day, etc. This isn't a log, its a plan of action.
2. Execute. Simple right? Just do what you said you were gonna do. Easier said then done. How many times have you heard someone say they'll start eating better tomorrow? I actually say that every cheat day. But that cheat day is part of my plan. And I stick to my "non" cheat days as they are laid out. A  plan is useless if you don't execute it the way it is intended to be.
3. Evaluate. After you've gone your given timeframe, evaluate your results. Did you see the results you were expecting? Did you even follow the plan? Did you set up a plan nearly impossible to stick to? Was it miserable? Did you feel better executing it? Did you lose weight? Did you lose strength? How did you feel?
4. Adjust. Only if necessary. If you're happy with the results, continue on. If it ain't broke don't fix it. But if you're not satisfied, make adjustments set for another time period, and repeat. You can endlessly repeat this process until you reach the results you are looking for.
At the end of day, there is one thing I find very empowering. You can take control of this. When the goal is to get a certain result, remember that it is just that, a result. Results are byproducts of our decisions. So before you get frustrated as so many of us do, apply the four steps I've listed above. Decide to make it happen, to continue on until you reach your goals.
I'd love to hear your comments below. Let me know your thoughts.
-Jonny Chai
Make it Happen, Live the Dream